Elevate Your Entertainment Space with the Whalen Xavier 3-in-1 Television Stand
Modern Design, Versatile Functionality
Introducing the Whalen Xavier 3-in-1 Television Stand – your gateway to a modern and organized entertainment space. With its sleek black finish and three-in-one design, it's time to transform your living room into a home theater haven.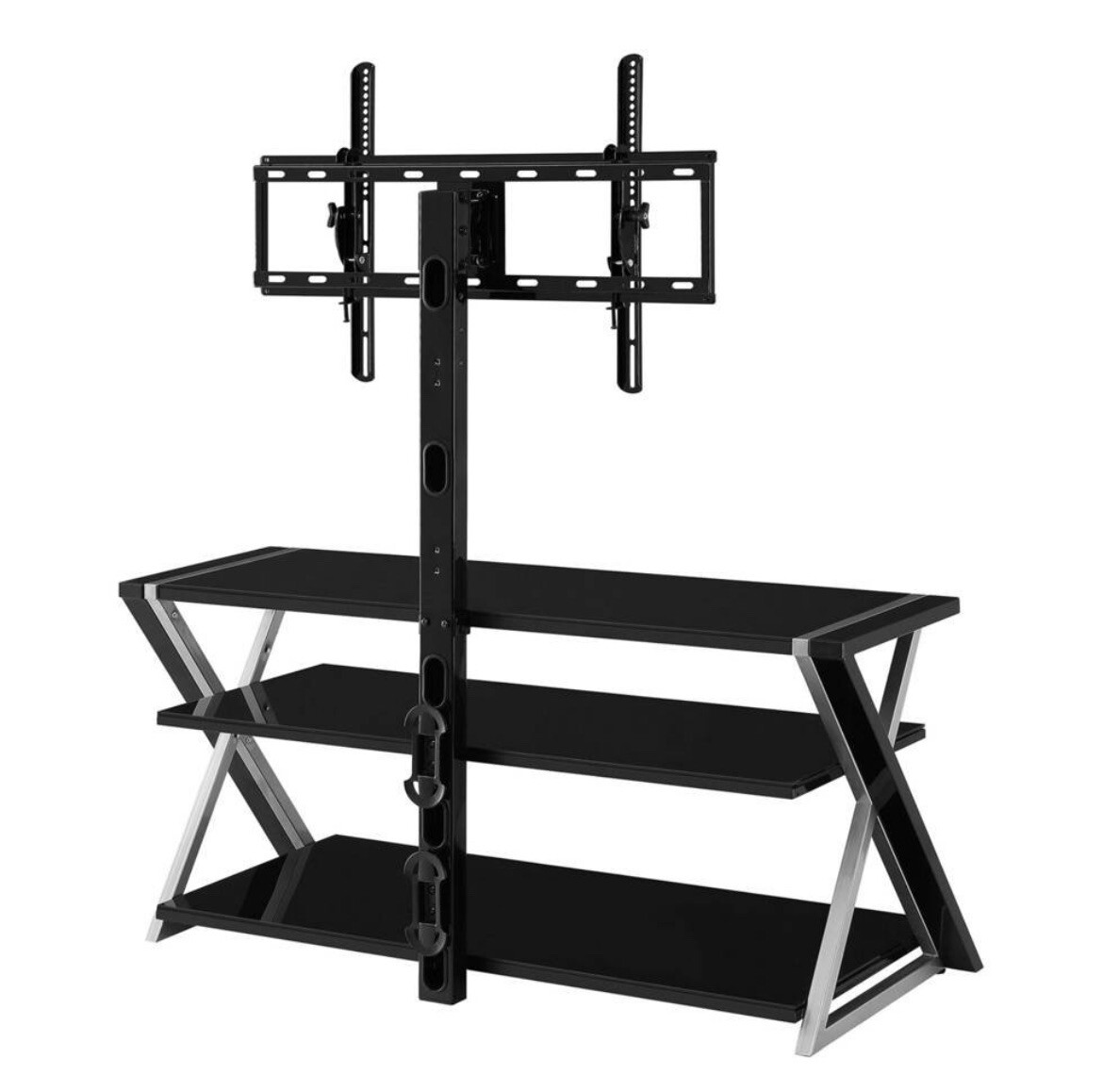 3-in-1 TV Console: This versatile stand can be used as a tabletop TV stand, wall mount, or as a swinging floater, providing you with flexibility in your home theater setup.
Modern Black Finish: The black finish not only adds a touch of contemporary elegance to your space but also complements various room styles.
Cable Management: Say goodbye to cable clutter. The stand features integrated cable management to keep your entertainment area tidy.
Entertainment Center, Your Way
The Whalen Xavier Television Stand is designed to enhance your entertainment experience.
Ample Storage: This stand provides ample space for your TV, audio equipment, and gaming consoles, helping you keep everything in one convenient place.
Sturdy and Durable: Built with high-quality materials, this stand offers durability and stability for your valuable electronics.
Easy Assembly: Set up your entertainment center effortlessly with easy-to-follow assembly instructions.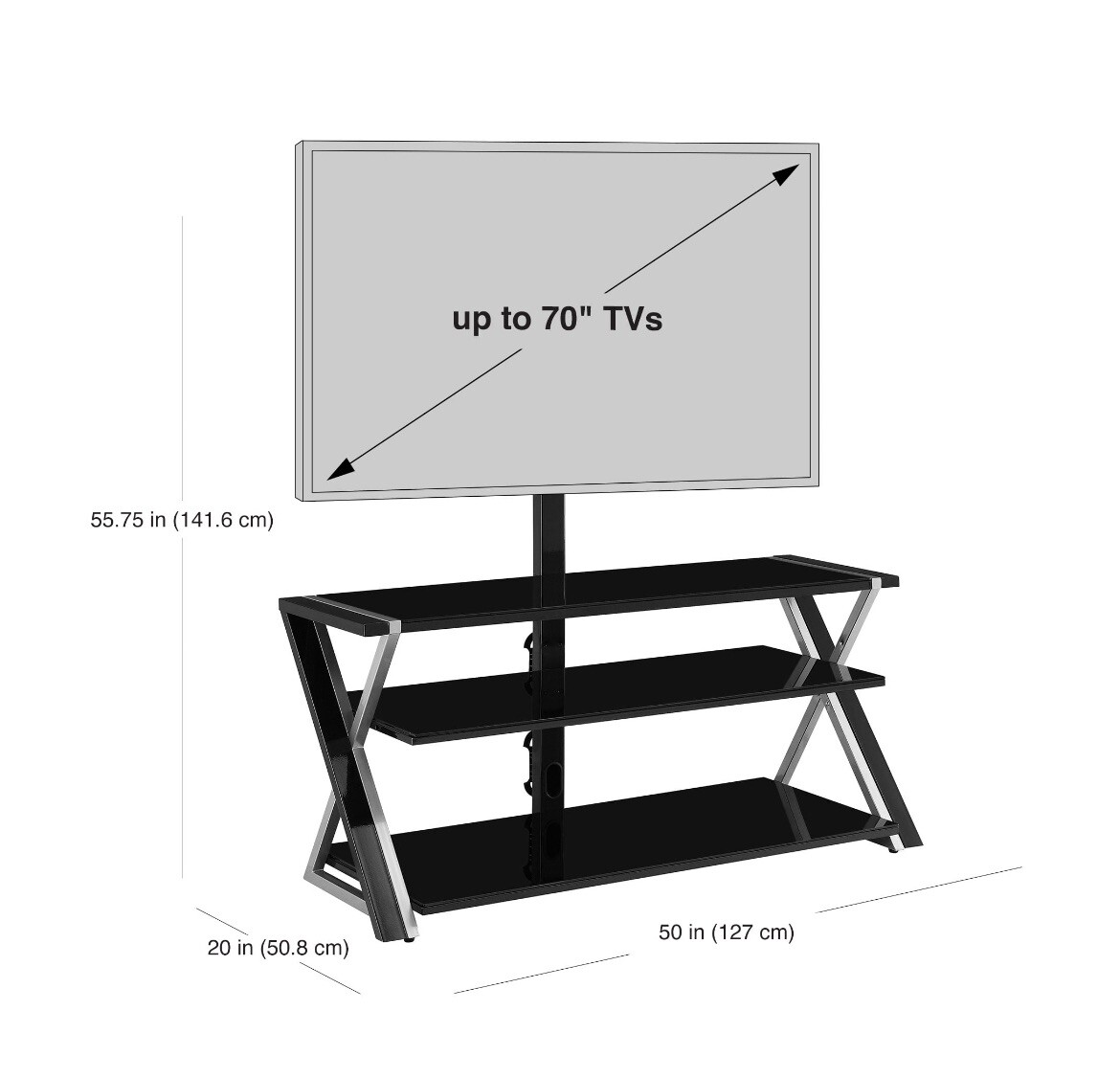 Your Home Theater, Upgraded
Make your home theater dreams a reality with the Whalen Xavier 3-in-1 Television Stand.
Customizable Setup: Choose the setup that suits your room layout and preferences, whether it's a wall-mounted TV or a sleek floating stand.
Entertainment Hub: Create the ultimate entertainment hub with all your devices and accessories organized and accessible.
Sleek and Modern: Elevate the look of your living room with this modern and functional furniture piece.
Key Features and Benefits:
3-in-1 Design: This television stand offers three different configurations to suit your needs – it can be used as a swivel-mount TV stand, wall-mounted TV stand, or a tabletop TV stand. Versatility at its best!
Sleek and Modern: The contemporary black finish adds a touch of sophistication to your home decor, making it a stylish addition to any room.
Ample Storage: With multiple shelves and compartments, it provides ample space for your entertainment essentials, from gaming consoles to sound systems and more.
Cable Management: Keep your cables and wires organized and out of sight with built-in cable management, ensuring a clean and clutter-free look.
Sturdy Construction: Crafted with durability in mind, this TV stand can support large TVs while remaining stable and secure;  Tabletop fits most TVs up to 60″ and 135 lbs.
Easy Assembly: Designed for hassle-free assembly, so you can enjoy your home theater setup in no time.
Elevate your home entertainment setup with the Whalen Xavier 3-in-1 Television Stand. Its sleek design, versatility, and practicality make it the perfect choice for modern homes.