Once you have a baby, just grabbing your keys and phone and walking out the door will be a thing of the past. Every trip out of your house will mean packing diapers, burp cloths, wipes, toys, bottles, pacifiers, and a changing mat, along with your keys and phone (if there's room for them). Having a diaper bag backpack means you'll not only be able to carry everything with you, but you'll also be able to have your arms and hands free for other things like pushing a stroller or carrying your baby.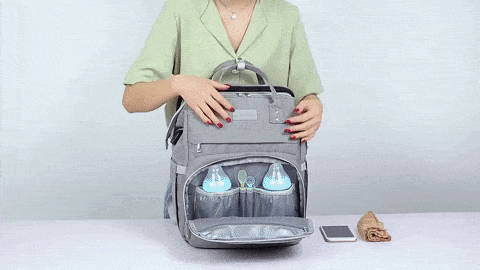 This Premium Travel Portable Bag comes with insulated milk bottle pocket, baby can drink warm milk at any time. Sleeping in comfortable light is very important for your baby especially when you go out to family picnic or travel, our changing station with sunshade cloth provides a light comfortable, soft bed for your baby to take a nap and frees your hand!
Ergonomic Design & Breathable
Straps are well cushioned, wont dig into your shoulders, kinder to parents' back as weight is evenly distributed.
Waterproof & Stain Resistant
Waterproof outside perfect for all weather's and easy to wipe clean, in case you have any spills or have to put it down somewhere dirty.
Insulated Pocket
The milk insulated section suitable for the bottle from 5 to 10oz, keep bottle warm. It is suitable for most baby bottles on the market. Such as, Tommee, Comotomo Dr. Brown's baby bottle etc